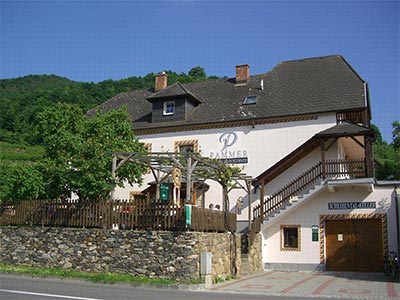 In our house, we offer our guests and customers the best possible partnership with quality, competence, nature and friendliness.
One word – quality instead of quantity!
Our success is rooted in quality-conscious viniculture, in careful wine cellar work and in a conscientious interaction with nature.
Wine is like a mosaic. Our goal is to create a work of art by extracting the natural aromatic potential of the grape, that is created by its surrounding terrain, climatic conditions, the choice of wine type and vineyard work through meticulous vinification.
Naturally, this requires enormous dedication, but it also implies a lot of feeling and love for the cultural assets wine that is pressed in our vineyard with high respect, true to the motto "less is more".
One word – competence!
The best products are useless, if they don't delight the palate.
This is the reason why our competence is highly crucial to your satisfaction and our success. Our generations of experience in viniculture and accommodating guests is reflected in our business. Competence is more than just ensuring a detailed offer and a punctual delivery. "Competence by PAMMER" rather indicates a professional support of our products, from pruning in spring to delivering our products and far beyond.
Substainable austria certification
After many years of sustainable work in the vineyard and in the cellar,
we are pleased to announce the official certification.